Dorothy Dehner
American

,

1910

–1994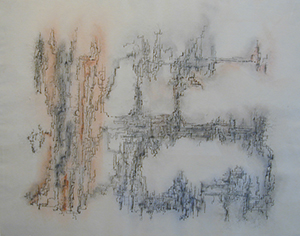 Dorothy Dehner was born in Cleveland, Ohio in 1910. As a child she studied painting and photography. She spent her adolescence in Pasadena, California where she studied dance, music and acting. After one year at UCLA, she moved to New York to pursue an acting career. Dehner studied at the American Academy of Dramatic Arts and appeared in several off-Broadway shows. She hesitated about pursuing a career in the theater and, in 1925, went to Europe. When she returned to New York later that year, stimulated by her contact with European modernism, she enrolled at the Art Students League. She initially studied drawing, because the style of sculpture being taught looked uninteresting after the works she had seen in Paris.
It was at this time that she met David Smith. An aspiring artist, Smith came to New York late in 1926. After meeting Dehner, he too enrolled at the Art Students League. Dehner and Smith were married in December 1927.
They spent time in the Virgin Islands in 1931. In the late 1940s, nature-derived abstract shapes relating to her work from this trip appeared again in her drawings and paintings.
In 1935 Dehner and Smith went to Paris, Brussels, Greece, and later the Soviet Union and Great Britain. They spent six months in Greece where Dehner made black and white sketches. Years later these drawings became the basis for sculptures; even the titles acknowledged the enduring impression of Greek art and mythology.
Dehner and Smith were closely involved in each other's creative activities during the 1940s. She gave titles to his sculpture, posed for some of his works, and participated in the progress of his welded metal constructions.
Dehner participated in several group exhibitions and in 1948 the Audubon Artists awarded her a first prize for drawing. Skidmore College organized a solo exhibition of her work in the same year. She found a copy of Ernst Haeckel's seminal 1904 study of natural forms, Kunstformen der Natur, and embarked on a series of drawings of microscopic organisms. She gained confidence in this new direction for her art, and created many abstractions in gouache and ink.
In 1950 Dehner left Bolton Landing. She would always consider her years there a time of great elation and of deep sorrow.
She obtained a degree from Skidmore College; then she came to New York City and taught. In 1952 she had her first solo exhibition at the Rose Fried Gallery in New York. Later that year Dehner began studying engraving at Stanley William Hayter's Atelier 17, and it was there that her desire to make sculpture returned. In the early fifties she began experimenting again with wax. Her imagery was derived from her earlier abstract drawings and paintings even going back to the organic abstractions of the 1930s.
She began working at the Sculpture Center in 1955 and had a few pieces cast in bronze. Sculpture dominated Dehner's interest for the following thirty-two years, complemented by drawings and prints.
Dehner's work has always been about contour rather than mass. She assembled her works from disparate parts and approached the use of wax as a constructivist using planar elements. She often explored textural effects, beginning with her use of sand in her 1930s paintings. In the 1960s she braised and drew on the wax slabs and introduced other textures by adding small pieces of metal.
While Dehner's sculptures are abstract, they consistently make reference to the natural world: vertical compositions evoke a totemic presence, while the horizontal format can be viewed as a landscape. The sculptures also represent a personal iconography that recurs over the decades. Circles, moons, ellipses, wedges and arcs abound. Like the artists of the New York School, the generation of which she is a member, Dehner's art acknowledges that abstract symbols can communicate content that is private but with universal implications.
In 1974, Dehner began to work with wood. She made constructed pieces using small wooden elements. These wooden constructions have a strong association with architecture and are works that Dehner referred to as "toy-like." The architectonic structure of her wooden ensembles, with thrusting verticals or stacked elements, often resembles the skyline of a fanciful city.
In the early 1980s, Dehner began a series of sculptures of heroic proportions in corten steel. These fabricated sculptures were based on works from the sixties and seventies that were originally cast in bronze from wax models. Dorothy Dehner died in September 1994.